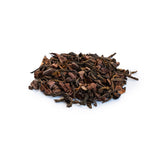 Master Blend
Chocolate Cure N°725 | Aroma Bag - 250 g| CP: 1 Unit
SKU: 11939
Delivery time 2-5 business days with DHL
UVP: €24,-
A rich organic blend of cocoa bean and Pu-erh tea to indulge and raise our spirits

Both the cocoa bean and Pu-erh tea have been appreciated for centuries by indigenous cultures for their invigorating, positive-mood enhancing, and comforting qualities. We have married the two in a powerful blend, which is also well suited as a digestive after a meal.

dark chocolate, earthy, sweet malt

| | | |
| --- | --- | --- |
| | | |
| Quantity | Temperature | Time |
| 2 tsp / 250 ml | 90° C / 195° F | 1st infusion 2 min. |
ABOUT OUR MASTER BLENDS In developing the Master Blends line, we set out to bring back the original magic of the tea blending tradition while adding our own contemporary aromatic twists. With a nose for inspiring flavors, our collection of organic Master Blends elevates tea to new and exciting heights. Each original recipe weaves together a masterful palette of all-natural ingredients to highlight and celebrate the essence of tea. The P & T Master Blends line features organic tea and herbal blends which were created using fine teas pairing them with pure aromatic ingredients such as flowers, herbs & spices, dried vegetables, and seeds.