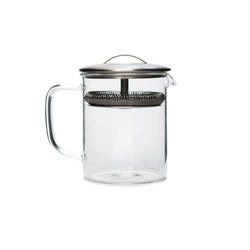 Teekanne
Cylinder Pot small | CP: 6 Units
SKU: 20635
Delivery time 2-5 business days with DHL
UVP: €29,-
A glass teapot for hot and cold brew with integrated strainer: Holds 400 ml
With its compact design, this brewing pot goes both ways but is particularly adept at batches of cold-brewed tea, stashing away neatly on a refrigerator door as the tea slowly infuses. A fine-meshed strainer is handily integrated into the lid to keep every bit of tea leaf in the pot with no muss or fuss.
Volume: 400 ml
Dimensions: Height: 11 cm, Diameter: 13 cm
Dishwasher safe: Yes
Origin: China
Cylinder Pot small | VE: 6 Einheiten
Tendríamos que tener opción de comprar solo el vaso.
Se rompen con facilidad y a la clientela les encantan