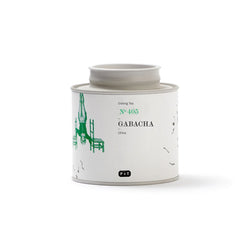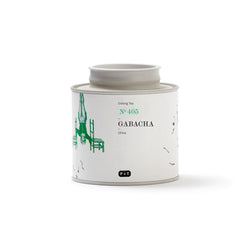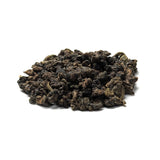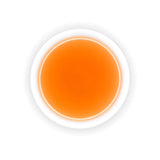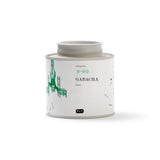 Gabacha N°405 | Caddy - 100g | CP: 8 Units
SKU: 10568
Delivery time 2-5 business days with DHL
UVP: €46,50
A GABA amino acid rich oolong from China with a roasted flavor
Gabacha is the remarkably prosaic name for "tea containing gamma amino-butyric acid" with welcoming nerve-calming qualities naturally occurring in this special strain of tea. Moreover Gabacha has a wonderful warm, mellow buttery aroma making for a consummate feel-good libation.
molten butter, fruity, subtly sour
Quantity
Temperature
Time
2 tsp / 250 ml
90° C / 195° F
1st infusion 1:30 min.
2nd infusion 2 min.
3rd infusion 2 min.
The high-tech star among our varied line-up, this exceptional Taiwanese cultivar undergoes a special process of nitrogen infusion to preserve its especially high content of the gamma amino-butyric acid (GABA) – scientifically linked to enhanced memory retention and calmer nerves. While the tea's novel process imbues the large leaves with a reddish-brown hue, it also highlights their hidden spice. The golden-brown cup brims with fruity notes ranging from apple to pomegranate, rounded out by the warmth of nutmeg, cinnamon and other spices of the winter-warming variety. What's more, this dark oolong lends itself remarkably well to cold-brewed infusions – developing a sweeter flavor and retaining more of its prized GABA.