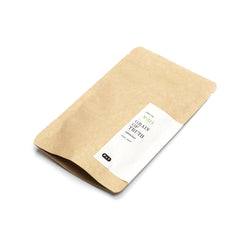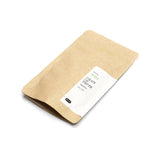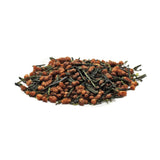 Grain of Truth N°314 BIO | Aroma Bag - 250g | CP: 1 Unit
SKU: 11219
Delivery time 2-5 business days with DHL
UVP: €37,50
A Japanese green tea blend of fine sencha and roasted brown rice
A true rags-to-riches story, this "people's tea" once relegated to the poor has climbed the ranks to become a delicacy on its own merits. Our blend of roasted sweet rice and fine sencha is a hearty, everyday favorite encapsulating genmaicha's quintessential toasty essence.
Green tea
brown rice (roasted)*
*certified organic
DE-ÖKO-070
Quantity
Temperature
Time
2 tsp / 250 ml
70° C / 160° F
1st infusion 120 sec.
2nd infusion 120 sec.
Ready for a savory delight? Originally a poor man's tea, due to the roasted rice being used to "fill" or "stretch" the tea, genmaicha, the "people's tea," has long since advanced to a class of its own and remains a popular staple in Japan. Due to its lower caffeine content, genmaicha can be drunk in large quantities any time of the day and serves well paired with food or as a hearty beverage able to curb the appetite. Like its namesake in Tanazaki's novel, Naomi, The Great Joji adds a touch of brazen fun to the hallowed tradition of Japanese sencha with its popcorn-like kernels of roasted rice that set a lively visual contrast and imbue this mild steep with fragrant hints of roasted coffee beans.
love the tea but..
your website is an absolute pain to order wholesale quantity, please do something about it or tell me what i am doing wrong