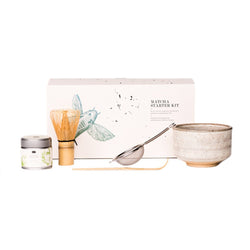 Gift Set
Matcha Starter Kit | CP: 4 Units
SKU: 80053
Delivery time 2-5 business days with DHL
UVP: €85,-
An all-inclusive set of matcha powder, bowl, whisk, strainer, measuring spoon to prepare matcha
All-in-one set to get you started with authentic matcha green tea. In the set included are a traditional matcha bowl, a matcha spoon, a matcha strainer, a matcha whisk and of course our Shinto Matcha tea.
1 Tin Shinto Matcha 30g
1 Saisho Bowl 300 ml
1 Chasen Bamboo Matcha Whisk
1 Chashaku Bamboo Matcha Scoop
1 Stainless steel Matcha Strainer
This is how we do it - Preparation & Care instructions
Gift Box
PERFECT MATCHA EXPERIENCE Authentic matcha is still hand-milled by artisans much as it was hundreds of years ago in Uji, the cradle of Japanese tea culture. Originally a ceremonial drink of Zen monks, matcha is winning over the hearts and minds of consumers the world over as one of the healthiest beverages on earth, yielding a rich source of anti-oxidants, vitamins and minerals. This set is the perfect starting point for anyone eager to reap its plentiful benefits and take part in that most time-honored of Japanese traditions.
Matcha Starter Kit
Super hochwertiges Set. Habe viel im Internet verglichen und mit Abstand das beste Preis/Leistungsverhältnis
Empfehle es immer wieder weiter!