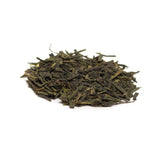 Mighty Green N°319 BIO | Caddy - 80g | CP: 8 Units
SKU: 11187
Delivery time 2-5 business days with DHL
UVP: €17,50
A rich premium Japanese sencha green tea for daily enjoyment
Sencha, Japan's beloved daily green, is produced by steaming leaves right after harvest to preserve their vibrant green hue and juicy flavor. A mix of grassier sun-grown sencha and sweet leaves grown in partial shade, our Mighty Green offers the perfect balance of flavor and mouthfeel.
meadow grasses, fresh herbs, green tomatoes
*certified organic
DE-ÖKO-070
Quantity
Temperature
Time
2 tsp / 250 ml
80° C / 175° F
1st infusion 120 sec.
2nd infusion 20 sec.