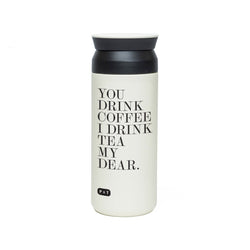 P & T Merchandise
My Dear Bottle | CP: 6 Units
SKU: 21018
Delivery time 2-5 business days with DHL
UVP: €42,-
A P & T branded insulated bottle with the My Dear motto print: Holds 500 ml
On-the-go is the new 'modern lifestyle' and with P & T's aim to keep you at a focused pace within a busy schedule, we introduce our "My Dear Bottle". An isolated To-Go flask with multiple purposes and infinite uses.
Volume: 500 ml / 16 fl.oz
Dimensions: Height: 20 cm, Diameter: 7.3 cm
Dishwasher safe: No
Origin: China
Colour: White
Finish: Matt
Pot brew your favorite tea in the morning, "My Dear Bottle" will keep it hot for the entire working day; pair it with a pocketed P & T tea bag on those rushed mornings; or pack it with a travel set for an introspective outdoor excursion and find yourself a moment to recharge. The personalized double-walled insulated bottle is made from high-grade, food safe materials and is bpa free. The vacuum insulation keeps the 500ml (16fl.oz) contents hot for 10 hours and iced for 30 hours. The stainless-steel polished interior does not retain flavors, making it suitable for whichever the choice of tea is for the day.
GENIAL
Der Spruch ist schon genial. Aber die Flasche ebenso. Das japanische Traditionshaus Kinto ist der Hersteller und überzeugt durch Qualität, Funktionalität und Design.