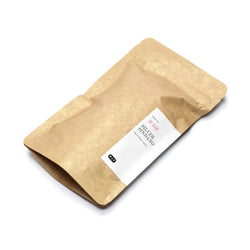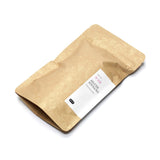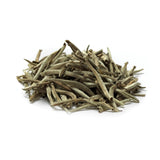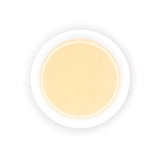 Silver Sindano N°106 | Aroma Bag - 250g | CP: 1 Unit
SKU: 10396
Delivery time 2-5 business days with DHL
UVP: €108,-
A white tea of pure buds from Kenya styled after the Chinese Silver Needle
"Speak softly and carry a big stick." Roosevelt's famed motto could well be the slogan of this exceptional white tea from the verdant slopes of Mount Kenya. Pale yet potent, this aromatic cup releases a full-bodied firework of fruity-floral aromas with a soft, cocoa butter finish.
white peach, cocoa butter, sweet
Quantity
Temperature
Time
2 ½ tsp / 250 ml
90° C / 195° F
1st infusion 3 min.
2nd infusion 3 min.
Estates from India and Nepal to Africa have begun to grow their own, unique white tea specialties all along the spectrum of our favorite drink's lighter shades. This particular – and award-winning – first-flush variant hails from Kenya and is a prime example of how the Chinese orthodox tradition is spawning new and exciting variants of beloved classics. This silver needle, or sindano in Swahili, contains only the tenderest buds of the early spring harvest, sun-dried at low temperatures to retain its unique flavor and beautiful white down. As with all gems, this one was not the easiest to find, though its intriguingly complex flavor profile makes it well worth the effort – see, sip and savor for yourself.
besonderer Tee
besonderer Tee, besonderer Preis. Wir kennen den Tee schon von anderen Anbietern und wussten, worauf wir uns einlassen, aber er spricht nicht zu jedem in der gleichen Weise.