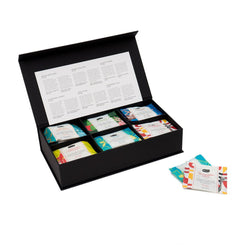 Gift Set
Six Graces Amenity Box - Mixed Selection | CP: 4 Units
SKU: 80043
Delivery time 2-5 business days with DHL
UVP: €38,-
A sleek black presentation box with individually sealed cotton teabags
A box of six popular blends - teas and herbals - in 42 individually sealed, hand-sewn cotton teabags. Every day should have some amenity - time for sweeter, gentler moments.
7 Teabags of Brave New Earl
7 Teabags of Cederberg Chai
7 Teabags of Jackpot Derby
7 Teabags of Mint Julep
7 Teabags of Sprite's Delight
7 Teabags of Unter den Linden
This elegant & sleek box keeps what it promises: a selection of tasty, individually packaged tea bags of the best loose leaf teas and herbals. Each tea bag is handmade from unbleached cotton and carefully sealed in our freshness sachet. Enjoy the variety of our Master Blend teas and herbals or gift them to your loved ones.
Top Qualität und schnelle Lieferung!
Top Qualität und schnelle Lieferung!