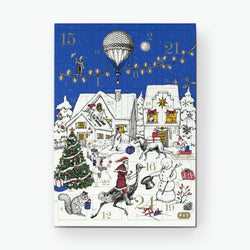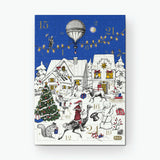 P & T Advent Calendar Christmas Village | CP: 10 units
SKU: 80142
Delivery time 2-5 business days with DHL
RRP: €39,-
Advent calendar – look forward to the festive time of the year!
Christmas still seems far away. But suddenly December is just around the corner and the best Advent calendars are no longer available. This year, why not relax and get the Advent calendar of your dreams while stocks last?

The Master Blends Advent calendar 'Christmas Village' contains 24 tea bags of our beloved organic tea blends. Behind each window of the sustainably produced calendar, a tea bag made from organic cotton awaits you – aroma-safe packed in recyclable foil. Enjoy a little tea break every day and get in the mood for the Christmas season. It also makes a lovely gift for environmentally conscious design and tea lovers – after all, Christmas is the festival of love.
24 organic tea blends in cotton tea bags, packed in recyclable foil
Different flavours, with and without caffeine
Cardboard calendar with cardboard inlay, all FSC certified and CO 2 neutral
Packaging biodegradable or recyclable
Height: 55,2cm / Width: 38,5cm / Depth: 2,0cm