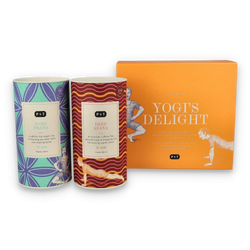 Gift Set
Master Blend Duo Set 'Yogi's Delight' | CP: 4 Units
SKU: 80183
Delivery time 2-5 business days with DHL
UVP: €26,-
A set of two best-selling ayurvedic spice blends from P & T's Master Blends collection
A pair of finely balanced caffeine-free organic herbal blends of relaxing and soothing properties. This special gift box contains two Master Blend caddies: Deep Asana and Pure Prana.
1 Caddy Deep Asana Spice blend
1 Caddy Pure Prana Herbal blend
This lovely set features two of our Master Blends Caddies wrapped in a high quality minimalistic black box with colorful sleeve for extra enjoyment. In developing the Master Blends line, we set out to bring back the original magic of the tea blending tradition while adding our own contemporary aromatic twists. With a nose for inspiring flavors, our collection of organic Master Blends elevates tea to new and exciting heights. Each original recipe weaves together a masterful palette of all-natural ingredients to highlight and celebrate the essence of tea. The P & T Master Blends line features organic tea and herbal blends which were created using fine teas pairing them with pure aromatic ingredients such as flowers, herbs & spices, dried vegetables, and seeds.