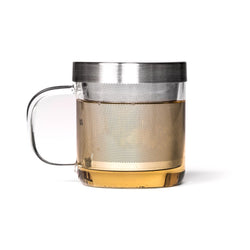 Tasse
P & T Brewing Mug | CP: 6 Units
SKU: 20844
Delivery time 2-5 business days with DHL
UVP: €17,50
A borosilicate glass cup with a removeable strainer and lid: Holds 260 ml
The perfect, all-in-one tea cup for daily use: made of high-quality borosilicate glass and lid and filter insert made of stainless steel, it allows tea leaves to unfold freely in the sieve, thereby protecting the flavour notes of the high-quality tea.
Volume: 260 ml
Dimensions: Diameter: 8 cm, Height: 9 cm
Dishwasher safe: Yes
Origin: China
A practical tea companion for daily use. The minimalist cup is made of high-quality borosilicate glass, which is resistant to temperature differences. Cover and filter insert are made of stainless steel - and temperature resistant from + 150 ° C to -40 ° C. The steel lid is brushed matte, the strainer elegantly polished. A realtively large sieve allows the tea leaves to unfold completely freely. The lid serves as a support for the removable strainer after the tea is infused. A minimalist P & T logo is attached to the lid and to the handle. Fits 260ml, the perfect size for the office.