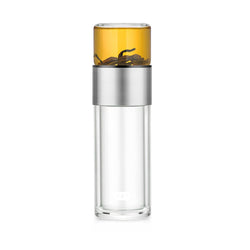 Teekanne
P & T Nomad bottle | CP: 6 Units
SKU: 20933
Delivery time 2-5 business days with DHL
UVP: €35,-
Insulated glassbottle for brewing and drinking tea on the go. Holds: 240 ml
Consider this, a sleek glass bottle for your tea that also allows multiple tea infusions on the go. The Nomad Bottle is the new essential daily accessory for urban travelers and intrepid tea connoisseurs.
Volume: 240 ml
Dimensions: Height: 22 cm, Diameter: 6.5 cm
Dishwasher safe: Only glass parts
Origin: China
The double-walled tea bottle is made with heat resistant glass and allows you to see exactly what you are brewing. Two glass chambers are interconnected with a stainless steel filter that prevents tea from over-steeping, allowing you to enjoy fine tea and it's multiple infusions. Conveniently designed with a drip-free lid and an easy to clean construction that is revolutionising the way we enjoy tea. How-to use: Place a portion of tea into the small chamber and screw on the strainer Add hot water to the larger chamber and connect all parts together Slowly tip the bottle upside down to steep tea To stop steeping, slowly tip the bottle back upright
Immer gute Tees und Beste Teaware für Tee-Liebhabern
Ohne P & T in unseren Teeladen Frojtee hier in Berlin geht's nicht :) Danke für Lieferung und bis bald!