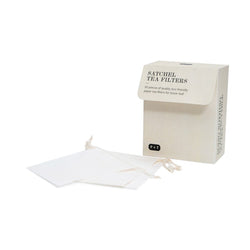 Tea accessories
Satchel Tea Filters | CP: 12 Units
SKU: 70200
Delivery time 2-5 business days with DHL
UVP: €8,-
100% compostable paper tea filters: 50 pieces
50 pieces of chlorine-free, unbleached and 100% compostable tea filters. Tea bags are one of the world's most accomplished mistakes. Intended as a bag for tea samples, its purpose was quickly misunderstood and thrown into a cup of hot water, thus shifting the attention to user-friendly tea. A teabag revelation! Our compostable, unbleached tea satchels are easy to handle and make single serving your favorite tea more convenient.
Dimensions: Width: 9 cm, Heigth: 11 cm
Tausendmal besser als die aus dem Supermarkt!
Einfach zu befüllen, sehr hochwertig, 100% kompostierbar und sehr elegant durch den Schließmechanismus. Lästiges knoten und zerreißen der Filter sucht man hier vergeblich.
Trotzdem sind 8 Euro immer noch ein stolzer Preis, den ich aber gern ausgebe.
Sehr gute Qualität
Qualitativ hochwertig und halten selbst kleinste Krümel zurück.