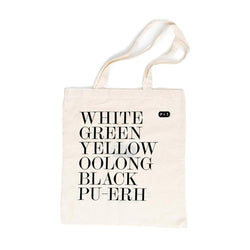 P & T Merchandise
Tea Geek Tote Bag | CP: 12 Units
SKU: 20807
Delivery time 2-5 business days with DHL
UVP: €5,-
A P & T branded cotton tote bag with tea types print
A minimal canvas bag with a big message. If you are a tea expert or wannabe you will love this one. The sister of our bestselling My Dear Tote has arrived! The Tea Geek Tote proudly presents all levels of tea oxidation: from white to pu-erh, the tea nerd inside you will be definitely satisfied. Made from sturdy cotton and easy to wash it will be your new daily staple.
Dimensions: Length: 43 cm, Width: 38 cm
Origin: India
Colour: White
für Teeliebhaber
Eine klasse, hochwertige Tasche, um sich als Teeliebhaber zu outen. Danke.
Hohe Qualität
Benutze die Tasche sehr gerne!